The layout of this radiator has the advantage of simply hanging towels from the side.
From the 2 vertical tubes extend the crossbars, the radiator is designed with an unobtrusive 3-point wall mounting system.
Connection options of radiator Kronos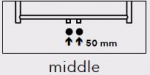 To clean the bathroom radiators, we recommend using a damp microfiber cloth. It is not recomended to use abrasive or chemical detergents.